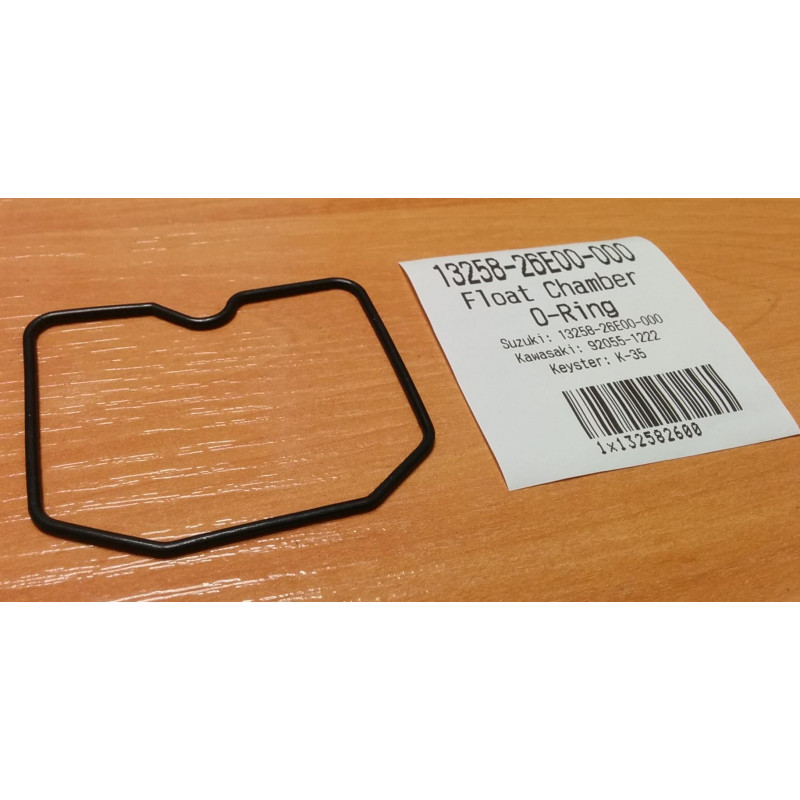  
Float Chamber O ring for SUZUKI GSF600 Bandit 13258-26E00
Security
We are hosted in France, and we care about your data !
Shipping
Shipped in two business days
Return policy
We accept returns after after sales support validation
This listing is for one float chamber o ring for your carburetor.
I personally tested this gasket on my Suzuki GSF 600 (2001) for 2 years, and the quality is really good (the gaskets I sell are fresh new and came from the same manufacturer).

Here are the references of this gasket :

    Suzuki : 13258-26E00-000
    Kawasaki : 92055-1222
    Keyster : K-35

This O ring is used on the following bikes:

    SUZUKI
        Bandit 600 1996-2004
    Kawasaki:
        BJ250 Estrella
        EL250 Eliminator
        EN450
        EN500 Vulcan
        ER5
        EX250
        GPX600
        GPz1000RX 1986-1987
        GPz1100 1995-1997
        GPz250R
        GPz500S
        GPz600
        GPz750 1987-1990
        GPz900R
        KL600
        KLR250
        KLR650
        KLX250
        KLX300 Bayou
        KLX650
        KSF250 Mojave 250
        KVF300 Prairie
        KVF360 Prairie
        Zephyr 1100
        Zephyr 550
        Zephyr 750
        ZG1000 GTR1000
        ZG1200
        ZL1000 Eliminator
        ZL600 Eliminator
        ZL900 Eliminator
        ZRX1100
        ZRX1200R

This o-ring is placed in a protectived sealed bad, and will be sent in a bubble wrap envelope in less than two business day, with tracking.
Il you buy more than one unit, the price will decrease (-25% if you buy 4 of them : means the 4th is free).


No customer reviews for the moment.